Yes, this.
By focusing the impeachment resolution on the charge of incitement of insurrection, the House made it easier for Mr. Trump's supporters in the Senate to dismiss these acts of intimidation as irrelevant to the accusation on which they were voting.
I was a little mystified about this as well.
Zooming out to the history of Trump's presidency, he obviously has a boatload of issues, beginning with crippling emotional insecurity which he desperately tries to overcome using deception and intimidation among other things. But as far as single impeachable offenses, the attempt to intimidate and pressure Ukrainian officials to dig up or manufacture damaging evidence against the family of Joe Biden, that was clearly an abuse of power. What is interesting to me is our human tendency to weigh guilt based on the impact of the alleged crime. The fact that Trump's attempt didn't lead to a whole lot of damaging information on Joe or Hunter Biden seems to lead most people to regard this as overblown and a weak case for impeachment. It makes me think about how the crime of attempted murder leads to a lesser penalty than actual murder. Why is this? For example, if someone tries to shoot someone to kill and fails, they get off easier because they are a lousy shot? Does that make any sense? The intent, or "the heart" from a biblical worldview, seems more important to me than the actual result.
The later attempt to intimidate and pressure Georgian republican elected officials to "find" "extra" votes to put him over the top in that state, that was really bad. But the worst by a mile, for me, was his failure to act on 1/6 after the mob had gotten so violent. Yes, worse than his incitement that same morning, or his lies and incitement over the previous 2 months. The mob was eventually in the capitol building, chanting "Hang Mike Pence" with a gallows built outside, and according to witnesses the President was watching delightedly on TV and fielding desperate calls from powerful democrats and republicans asking him to call off the mob and he chose to not to. Instead, at 2:24 he tweeted out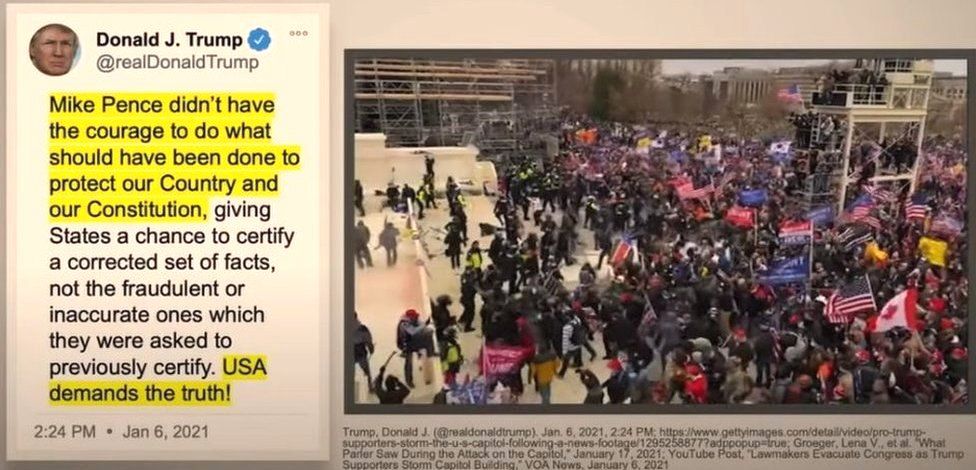 Followed by a 3:13 tweet and a 4:17 video tweet that are half-hearted attempts to call off the attack. To me, the interval from about 1 pm to at least 3:13 pm is the damning interval in which he chose not to act, a clear dereliction of duty. As the NYTimes editorial posits, it seems curious that the house managers didn't try to charge Trump with a more broad, general offense as opposed to incitement, specifically. Then the intimidation of GA officials and pressure to commit voter fraud is much more relevant. As is the refusal to protect congress once the mob was out of hand by or before 1:00.* Again, the money quote:
By focusing the impeachment resolution on the charge of incitement of insurrection, the House made it easier for Mr. Trump's supporters in the Senate to dismiss these acts of intimidation as irrelevant to the accusation on which they were voting.
I do acknowledge, as the editorial did, that finding enough Republican senators with the integrity and courage to convict would have been unlikely anyway. And I think the house managers did a pretty good job, but they unnecessarily made it harder on themselves by charging him with only incitement.
See a more full timeline here.
Getting back to my bunny trail about intent and "the heart," is there any doubt that if the mob had reached Mike Pence and hung him on the gallows, Trump would have been impeached? The mob narrowly missed a confrontation with him and his security detail. Basically, it came down to officer Eugene Goodman and luck, or perhaps providence. So, is that just? I think the intent, the process, or "the heart" should weigh much more heavily than the outcome. It makes me think of the Jesus quote from the sermon on the mount in Matthew 5:
21-22 "You're familiar with the command to the ancients, 'Do not murder.' I'm telling you that anyone who is so much as angry with a brother or sister is guilty of murder. Carelessly call a brother 'idiot!' and you just might find yourself hauled into court. Thoughtlessly yell 'stupid!' at a sister and you are on the brink of hellfire. The simple moral fact is that words kill.

27-28 "You know the next commandment pretty well, too: 'Don't go to bed with another's spouse.' But don't think you've preserved your virtue simply by staying out of bed. Your heart can be corrupted by lust even quicker than your body. Those ogling looks you think nobody notices—they also corrupt. (from here)
Obviously, this is not how our earthly legal system works. But I'm dissatisfied with our apparent overemphasis on outcomes, rather than on process. If someone poisons someone, and the victim barely survives due to skillful medical intervention and some luck (like Alexei Navalny), why should the penalty for that crime be less than the penalty for poisoning that results in death? If you have a reasonable answer to this question, I'm sincerely interested in reading it in the comments. For now I will try and put my attention and trust on the good judge who will, ultimately and inevitably and inexorably, deliver justice. From which we all need mercy. Which reminds me of this great Tim Keller sermon.
*I would even argue that his obsession for the last 2 months of his presidency with doing anything, telling any lie, to overturn the election results – this constitutes dereliction of duty as well because he didn't care about governing and helping the country via servant leadership (hahahaha), his entire focus was on his reelection bid. I do realize that by this standard, a great many or perhaps most politicians would be guilty of the same offense when it gets close to election day. So be it.